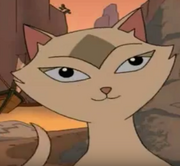 Ling
is a female Alley Cat, that has a diamond mark like
Dongwa
, except in the middle of her forehead, markings around her eyes like
Mama Miao
and has cream coloured fur. She debuted in the episode 'Dongwa's Best Friend'. She is show in that episode to be easily impressed and in the ending, danced with him making Dongwa happy, after his betrayal with another new Alley Cat, Wong Ton.
Ad blocker interference detected!
Wikia is a free-to-use site that makes money from advertising. We have a modified experience for viewers using ad blockers

Wikia is not accessible if you've made further modifications. Remove the custom ad blocker rule(s) and the page will load as expected.